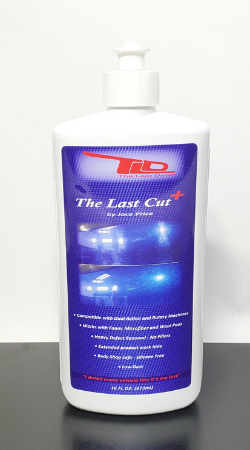 The Last Cut + - 16oz
The Last Cut +
 (TLC+) is a water-based Cut Compound designed by a detailer for detailers and body shop users. Versatility is key and this product was designed to complement its less aggressive companion The Last Cut. 
TLC+
 provides a careful blend of added aggression while still maintaining the finishing ability when working with clear coated/gel coat surfaces. This is achieved by using diminishing abrasives and providing more cutting action during its diminished state. This product is compatible with numerous types of pads and can be paired based on aggression requirements or job purpose. When dealing with clear coat on the harder end of the scale, 
TLC+
 is designed to provide more defect removal ability when compared to The Last Cut. Ultimately it provides the means of improved efficiency while keeping surface integrity and user safety in mind. Best results are achieved using a Dual Action Polisher or Rotary Polisher. This SILICONE FREE formula contains NO FILLERS and is BODY SHOP SAFE.