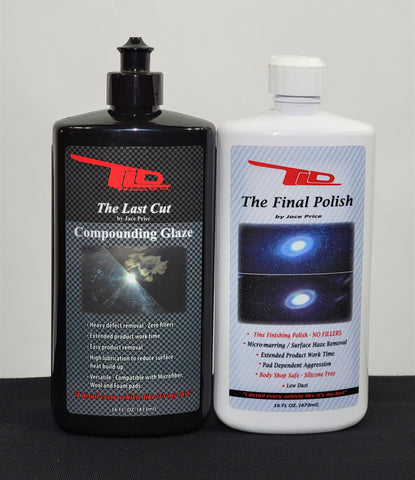 The Last Cut & The Final Polish Bundle 16 oz.
Bundle and save with no coupon needed!!
This bundle is geared towards paint correction on medium to softer paints. 
Bundle Contents:

The Last Cut Compounding Glaze 16 oz. is designed by a detailer for detailers and body shop users. Versatility is key and this product gives its user full control over aggression/finishing ability based on pad choice. Its main purpose is to remove scratches and swirls while leaving a glossy finish on light or dark-colored painted/clear-coated surfaces. On harder paints, its one step capabilities can be explored. Best results are achieved using a Dual Action or Rotary Polisher. This Silicone-free formula contains NO FILLERS; showing true results after use. Body Shop Safe!
------------------------
The Final Polish (TFP) is a water-based finishing polish that was designed by a detailer for detailers. TFP is the finest abrasive formulation in the TLD Products line-up. It was developed as a finishing step in the paint polishing process. Its main purpose is to remove haze, holograms or micro-marring that may have been introduced during more aggressive polishing steps or poor clear coat maintenance. It can also be used for paint enhancement to extract hidden gloss from clear coat. This product will excel in situations where soft clear coats or delicate finishes are encountered.
The Final Polish was designed with a pure approach to keep the formula as light as possible which in turn provides a high resistance to rubber and plastic trim staining. This means that TFP is thin and light by design. Aggression can also be customized based on pad selection as it is compatible with all pad variations. It can also be used with dual action, forced rotation or rotary machines. TFP will be a great addition to your polishing arsenal if the best possible finish is what you seek. If The Last Cut or The Last Cut + lacks the ability to finish due to formulation aggression, this is where The Final Polish is utilized. This SILICONE FREE formula contains NO FILLERS and is BODYSHOP SAFE.